Thread Rating:
Hire the Person Above You
I hire Cavey to do a snow dance.
I hire amy to be my personal butler.
a cup of tea please?
[Sorry if my english is bad, since is not my first language]
I hire kunapuy to knock me out so I can sleep.
I hire Amy to sing for me.
I hire Lady to shovel my snow
I hire BadGuy... to be a good guy.
Maybe I am ...lower expectations LOL

I would hire Cavey to walk my dog
I would like to hire BadGuy to bring me BBQ.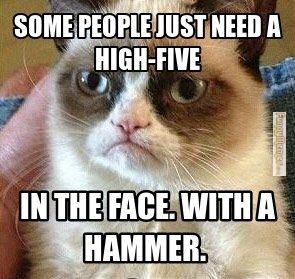 I would hire MissGuided to rub my back until I fall asleep.
"Be who you are and say what you feel, because those who mind don't matter, and those who matter don't mind."
— Dr. Seuss
I hire Danielle to pick up landmines that the dog left behind
Possibly Related Threads...
Thread
Author
Replies
Views
Last Post
Game -Guess something about the next person
Sanal
9,300
630,250
11-02-2019, 10:35 PM
Last Post: Rosie007
Game - Spread a rumor about the person above
Sanal
3,736
253,907
04-10-2019, 04:27 AM
Last Post: Danielle
Ask a question for the next person!
Rosebolt
1,627
129,096
04-10-2019, 04:20 AM
Last Post: Danielle
Ban the person above you
Naleena
4,030
199,001
03-12-2019, 08:14 AM
Last Post: Joturbo
The Last Person To Post in X Page Wins xD
Drama
2,316
243,936
02-08-2018, 11:35 PM
Last Post: Richard_39
Famous Person Game
WishingWell
228
45,758
10-21-2017, 04:10 PM
Last Post: Serenia
Change The Person Above You
Phaedron
19
7,085
07-26-2016, 03:15 PM
Last Post: Pathfinder
Person Above
Lost Soul
6
5,215
07-03-2016, 07:21 AM
Last Post: AmytheTemperamental
Describe the person above you
Calm
992
172,789
06-15-2016, 01:51 PM
Last Post: Paraiyar
Game - 5 things about the person above you
Sanal
10
5,945
02-27-2016, 01:01 PM
Last Post: MisunderstoodVacancy
Users browsing this thread: 1 Guest(s)